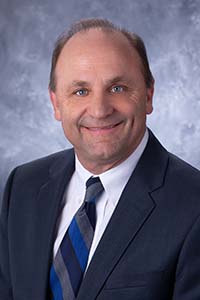 President
Dave Boniello is President of Simplex Industries.
Dave comes to his latest leadership position with over three and a half decades of industry experience, most of that with Simplex.
Dave Boniello brings a wealth of expertise to the President's office. He began his career as a carpenter and rose through a series of sale and management positions before being named President on January 1, 2022. He previously served as Vice-President of Simplex and its affiliate company, Cornerstone Building Solutions.
Dave Boniello has been a leading proponent of embracing technology and changing industry processes that have allowed Simplex to offer the value and superior construction advantages of modular to those who have traditionally been non-modular customers. The company points to success with large multi-family projects completed in Philadelphia, Newark and suburban New York City as examples where Simplex changed their engineering approach, design and manufacturing systems to adapt to the needs of non-traditional customers. Embracing change and adapting to marketplace needs are credited with allowing Simplex to grow rapidly in recent years and to enter new markets.
Dave Boniello has had a hand in every large-scale project at Simplex for decades.
His work with companies such as Westrum Development, Georgica Green, The Community Builders and many more have highlighted his career.
Dave says a continued embrace of reexamining all Simplex's methods and adapting to the needs of large-scale developers as well as single-family home builders will mark his tenure as President. He urges those who have not previously considered modular to meet with him and his team to discuss their needs and to learn how Simplex can move them from planning to grand opening faster than any other process – while improving quality and often offering significant development savings.
Dave Boniello has been highly active at his alma mater, Johnson College in
Scranton, PA. During his tenure as a board member, he became the first graduate to lead the College as Chairman of the Board of Directors. Dave was also a 5 year member of the Lackawanna Home Builders Association and acted as Vice President in his final 2 years on the board.
In his free time Dave enjoys private Real Estate Development, golfing, skiing and time with family.
Request a ZOOM Meeting
Would you like to request a ZOOM meeting?
Please complete the form below and we will work with you to set up your meeting.