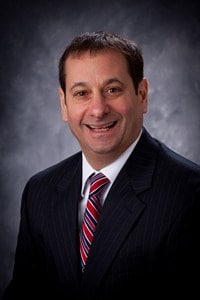 Patrick A. Fricchione, Jr.
General Partner
President & CEO
As President and CEO of Simplex Industries with more than 37 years of experience, Pat has been integral in growing his 50–year family business into a leader in the modular construction industry.
Pat first started at Simplex during the summers and has worked in many departments of the company. He brings this unique experience to his role overseeing day-to-day operations and focusing on the company's long-term growth, such as incorporating energy-efficient technology into the product lines. Pat emphasizes a collaborative environment with employees and a customer service driven model.
Pat is an active community member and serves on boards including immediate past President of the Women's Resource Center, Chairman of the Greater Scranton Chamber of Commerce, and President of the Scranton Half Marathon. He also was the Chairman of the Building Systems Council and the President of the Modular Building Systems Association.
Pat is a graduate of Elizabethtown College. He and his wife, Ellen, reside in Clarks Summit and have three grown children.
Request a ZOOM Meeting
Would you like to request a ZOOM meeting?
Please complete the form below and we will work with you to set up your meeting.